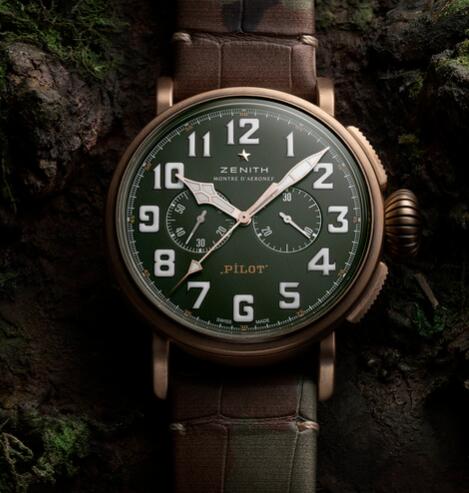 Bronze…not a typical watch material – especially a pilot's watch. Bronze has been used many times in watchmaking, but it makes more sense in diving watches (even though, to be honest, bronze is still an odd choice for a timepiece. We'll discuss why later in this article). When you think of bronze, you immediately think of Panerai, but other brands use it (eg IWC and Aquatimer). Now it's Zenith's turn to launch a watch in this green metal. It's a pilot watch, it's big, but it looks really cool. This is the Zenith Pilot Type 20 Extra Special Bronze 45mm.
The Zenith Pilot Type 20 became an iconic and easily recognizable timepiece among all pilot-oriented watches. Even though it has many classic aviator-style attributes, the Type 20 (not related to the Breguet Type XX, but rather to a specific serial number of a French navy-specific instrument) has its own design, its own style, its own feel and what makes it Something special. Of course, the collection consists of large to very large pieces. You might think of the already huge Montre D'Aéronef Type 20 GMT Pilot and its 48mm case. You might also think of the huge 60mm (yes, 6cm) Zenith Pilot Type 20 with its Grand Feu enamel dial. However, keep in mind that the collection also includes a small (compared to the rest) 40mm version, Made for women or men with discreet intentions, and a medium Extra-Special model measuring 45mm, now available in a bronze case. swiss cheap watches
45mm may sound huge, but remember that a significant part of the fun a pilot's watch provides comes from its sheer size. In the golden age of aviator instruments, a design attribute now is the need for legibility. Major cases are both respect for historical works and respect for normalcy. As such, the Zenith Pilot Type 20 Extra Special's 45mm case has a standard feel – second only to the 46mm IWC Big Pilot or the 47mm Oris Big Crown ProPilot altimeter. The shape is the same as its larger sister, with these Specific lugs and strap accessories. Crowns are also typical of the range, with round and large onion shapes (this shape is a good point as the classic and sharp onion crowns tend to hurt). The main novelty: the material used for the case. The Zenith Pilot Type 20 Extra Special Bronze 45mm is made of… Bronze. What an odd choice for a pilot's watch! Whatever the reason for this choice, the results are excellent. It's warm, rough, and brings a suitably vintage vibe to an already retro-oriented watch. The case has a rough satin finish, again emphasizing the antique look.
Now you should be asking why we find bronze to be an odd choice for a watch – whatever it is, diver or not. In fact, bronze is unstable and ages quickly when exposed to water, acid, heat, or just sweating. This means that your beautiful gold Zenith Pilot Type 20 Extra Special will see its case covered in green oxide after wearing it for weeks/months. Nothing bad as it will give it a special and unique sheen, but it's something you have to pay attention to (you can easily clean it and remove this oxide). www.moonphase-watch.com
This bronze case complements the look of the dial and hands and is very successful. Everything in the Type 20 (regardless of version) is reminiscent of (very) early pilot watches – not the 1940s/1950s ones we usually see in retro reissues, but the 1910s/1920s Those of the era (such as this one created by Zenith for Louis Bleriot in the 1910s) are evident from the large Arabic numerals (here painted with luminous material) and the shape of the typical cathedral hands. Gold hands and slightly creamy numerals contrast on the matte black dial, which complements the bronze case. The overall result is very pleasing.
Inside the Zenith Pilot Type 20 Extra Special Bronze is the in-house movement Elite 679, a nice three-hand self-winding movement (no longer a Sellita movement. It's a good sign that Zenith cheap has launched its own movement) Known for reliability, precision and aesthetics). The movement consists of 126 components and has a power reserve of at least 50 hours. Measuring just 3.85mm in height and 25.6mm in diameter, the movement promises to be hidden behind a sturdy caseback – it would be odd to see the movement through the sapphire caseback in the 45mm case. The same applies to dates, but fortunately, that complication is not present here. Case back made of titanium (bronze can cause irritation if in direct contact with the skin),