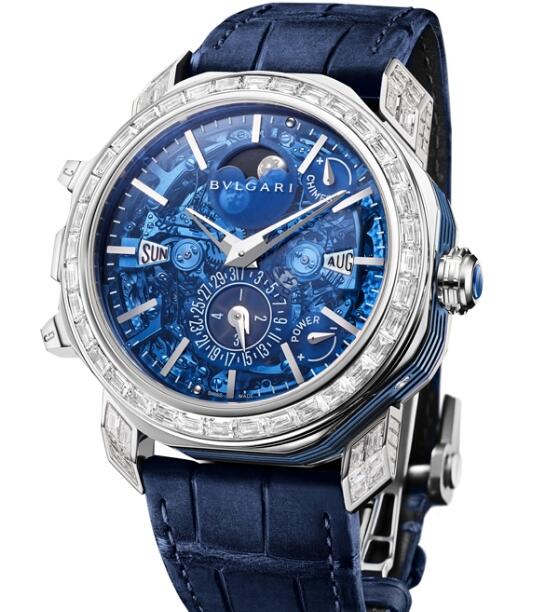 Ask the watch, the most extreme level in the field of high-level complex watchmaking technology, and the grand self-ming function is the most culmination of the craftsmanship. Today, there are very few watchmakers with the ability to make the grand self-recognition, and Bvlgari Swiss Le Sentier The watch workshop has collected the best of them. Since 1994, more than 90 grand zither watches have been published. In addition, all types of clocks with two, three or four hammers have been continuously launched. . Bulgari continues to build on its watchmaking strength and integrates Italian aesthetics with its unique viewpoints to develop mechanical aesthetic designs that surpass the classics and interpret Bulgari's mechanical symphony.
Recently, Bulgari created a five-sided immersive projection exhibition space in the world of Bulgari watchmaking at Ambi Space One, the fully immersive digital exhibition venue in Taipei 101. Being in it sometimes seems like visiting the Swiss Jura Watch Valley in Switzerland. Geri's Le Sentier workshop, sometimes like a shuttle in the movement, through a perspective that is completely different from usual, you can get close to Bulgari's mechanical aesthetics.
This space is created to welcome a series of 13 questionnaires that have just arrived in Taiwan. The most eye-catching work is the limited number 1 Octo Roma, Moon Phase Perpetual Calendar, White Gold, Diamonds, Blue. Disc watch. The BVL980 four-hammer movement, which is equipped with the BVL980 Grand Ziming four-hammer movement, consists of up to 1,200 parts. The superb movement craftsmanship and mechanical beauty during operation can be seen clearly under the blue sapphire crystal dial.
BVLGARI Octo Roma Grande Sonnrie Grande Sonnrie Moon Phase Perpetual Calendar Watch/Diameter 44mm/White Gold, Blue PVD Coated Titanium Case/Sapphire Crystal Dial/BVL980 Self-winding Mechanical Movement/Big and Small Ziming, Four hammers and minute repeater timekeeping (Westminster bells), tourbillon, perpetual calendar and moon phases/power reserve 48 hours, power reserve 24 hours for the grand ziming, power reserve 28 hours for the small ziming/waterproof depth of 30 meters/limited 8
The style of beauty is completely different from most traditional question watches Octo Roma Carillon Tourbillon diamond-like carbon treatment all-black titanium clock bells timekeeping tourbillon watch, the whole body matte black exterior design is rich in contemporary style, including its carrying Bvlgari's self-made BVL42 hand-wound movement also presents a design thinking that is completely different from traditional typical design thinking. The hammer, gong, tourbillon frame and hollow surface are made of polished stainless steel. , It is in contrast with the texture and color of the splint and bridge plate coated with DLC coating, bringing out a refreshing view of appreciation. The case is made of DLC-coated matte titanium, plus a hollow titanium middle case designed to improve sound quality. The functions of this watch include: Zhongle, three hammers and minute repeaters, tourbillon device and hour and minute indication.
BVLGARI Octo Roma Carillon Tourbillon Diamond-like Carbon Treatment All-Black Titanium Bell Timekeeping Tourbillon Watch / Table Diameter 44mm / Black DLC Coated Matte Titanium Case / Bvlgari Homemade BVL428 Manual Winding Movement / Power Reserve 75 Hour/waterproof depth of 30 meters
Bulgari is one of the few brands that brings feminine style into the field of questionnaires. Divina Mosaica Minute Repeater is a jewellery questionnaire that integrates top jewellery craftsmanship and advanced complications. Under the white gold case, it is The dial is decorated with diamonds inlaid with fan-shaped totems, and the BVL362 movement, which set a world record for ultra-thinness. Slide the special slider at 8 o'clock to activate the two hammers and two springs. The sliding buttons are decorated with fan-shaped pendants inlaid with diamonds, and the lugs are also displayed in fan-shaped shapes. The design details are closely related to the same theme, and delicately interpret the exquisite beauty of high-end jewelry watches.
BVLGARI Divina Mosaica Minute Repeater Minute Repeater / 37mm diameter / diamond inlaid white gold case / ultra-thin mechanical chime movement BVL362
Bulgari's wonderful performance in the field of questioning watches extends to a number of series, including the Octo Finissimo series with an ultra-thin image that is deeply rooted in the hearts of the people. Since the launch of the Octo Finissimo ultra-thin series in 2014, Bulgari has established the ultra-thin supreme status in the watch world by virtue of this series that has repeatedly broken the ultra-thin world record. The Octo Finissimo ultra-thin minute repeater watch, which was first published in 2016, is made of sandblasted titanium alloy; the carbon thin layer version will be launched in 2021, with a case and bracelet made of CTP carbon thin layer and PEEK polymer. It presents a unique pattern of matte texture, is hard and light, and the watch weighs only 47 grams. In order to maintain the avant-garde and neat sense of the overall shape, the start button of the timekeeping device is set on the lugs, which does not compromise the beauty of balance and symmetry.
BVLGARI Octo Finissimo ultra-thin minute repeater watch / watch diameter 40mm / carbon thin layer (left), sandblasted titanium (right) material / Bvlgari self-made ultra-thin mechanical minute repeater BVL362 manual winding movement / 42 hours of power reserve / Waterproof depth of 50 meters / each limited to 50
The L'Ammiraglio del Tempo Sea Eagle Four Hammer Minute Repeater Complicated Watch is another masterpiece that Bulgari can be proud of. This Westminster bell tells timepiece that combines an impact chronometer escapement structure, a constant power device and a cylindrical hairspring, with precision. Through the hollow part of the face plate, you can appreciate the operation state of the impact chronometer escapement mechanism and the hammer and gong of the percussion. The sliding springs of the timekeeping are hidden as mobile lugs, and the lines of the entire case are more smooth.
BVLGARI L'Ammiraglio del Tempo Sea Eagle Four Hammer Minute Repeater Complex Watch/Diameter 50mm/Rose Gold (Left), Titanium (Right) Case/Bvlgari Manufacture Manual Winding DR7301 Movement/Power Reserve 48 hours/waterproof depth of 30 meters